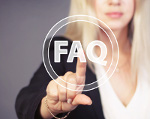 Here are some great FAQs.
What kinds of coverages are there?
There are many types of car insurance coverage; however, while most are optional, certain coverages are generally required by law.
Most states require drivers to purchase a minimum amount of liability insurance coverage, which pays for injuries and property damage that you cause to others in an accident. It does not cover your own injuries or property damage.
Uninsured/underinsured motorist coverage may also be required by your state, but is typically optional.
Other optional coverages include (but are not limited to):
Collision coverage.
Comprehensive coverage.
Towing and labor coverage.
Rental reimbursement coverage.
What coverage limits do I need?
You must carry the minimum car insurance coverage limits required by law, which varies by state.
After you have met the minimum legal requirements, you can choose to increase your coverage limits for greater reimbursement potential.
For additional protection, you can also choose to add additional car insurance coverage, such as comp and collision, uninsured motorist, towing and labor, etc.
What coverages will pay for my medical bills after an accident?
The answer depends on who is at fault and what coverage you have.
If you are not at fault, the other party's liability coverage is responsible for paying your medical bills after an accident UNLESS you live in a no-fault state.
If you are at fault, but you live in a no-fault state, your personal injury protection coverage will cover your medical bills after meeting your deductible.
If you're hit by a driver with no or insufficient insurance, uninsured motorist coverage can step in.
Medical payments coverage can also be used to pay your medical bills after an accident, regardless of fault.
Another source of payment for your medical bills is your medical insurance coverage, which you can use in combination with your car insurance coverage if you need to.
What coverage will protect me if I have vehicle damages that don't occur from an accident?
Generally, comprehensive insurance coverage will pay for non-accident-related vehicle damages. Comprehensive coverage will usually pay for costs from:
Weather damage.
Fire damage.
Animal collisions.
Vandalism.
Theft.
Am I covered if my car breaks down?
It depends. If you've elected to purchase towing and labor coverage, often called "emergency road service coverage," you'll be covered for items such as:
Towing.
Tire changes.
Jumps.
Locksmith services.
Roadside labor.
Will my car insurance pay for a rental if my car is in the shop?
Typically, you'll only be covered for the cost of a rental if you've purchasedrental reimbursement coverage.
NOTE: Your insurance company may require that you have comprehensive and collision insurance coverage in order to purchase this type of coverage.
What happens if I hit my own car?
If you hit one of your own cars while driving another of your cars, liability insurance will not cover you; it only covers damages to any party in an accident you cause.
However, collision coverage will pay for those damages to your vehicle if you've elected to purchase it.
Am I covered by my own auto insurance when I drive my friend's vehicle?
Generally, yes. However, in most cases your friend's insurance would be the primary coverage, meaning you'd only access your own coverage in the event that the limits of his policy were met.
Who is covered by my car insurance?
Any licensed drivers in your household are generally covered to drive your car, as well as anyone else who has permission to use your vehicle.
NOTE: If you exclude someone from your policy, they are NOT covered when driving your car, meaning you could be responsible for all damages if they do take your car out and get into an accident.
If I move, will my coverage change?
It might. Minimum requirements vary by states, so you may need to adjust your car insurance coverages and limits. Also, your auto insurance company may not offer service in your new state, so you might have to switch providers.
Speak with your current insurance company if you are planning to move so you make the right adjustments.
Am I covered if I drive outside of the country?
It depends on which country you're visiting. Your car insurance usually covers you to drive in Canada; however, if you're driving in Mexico or other countries, you may need to purchase international auto insurance.
Talk your current company before planning your trip if you wish to drive while away.
When should I reevaluate my coverage?
You should think about whether you have the right car insurance coverages for you whenever you have a major life change, such as when you buy a home, get married, or have a child. A life change can have a major effect on which coverages provide the right protection for you.
Also, it can make sense to get quotes and compare prices periodically. Many consumers stick with their insurance company out of convenience. Switching providers may save you significant amounts of money.